ʻAi Pono

I ola nō ke kino i ka māʻona o ka ʻōpū.

The body enjoys health when the stomach is well filled.

— ʻŌlelo Noʻeau #1246
Remember all that jump roping you did in PE? You can probably thank the brown rice and apples you ate earlier. Catching on to some tricky math concepts? Don't forget to thank the poi and carrots you ate in the morning.
Food gives us energy. It keeps our minds alert. Food comes from the land. As Hawaiians, we have great love for the land, and we take good care of the 'āina. This practice is called mālama 'āina. When we care for the land, it grows healthy food for us. The practice of eating healthy food is called 'ai pono, and it's something we've been doing for generations.
What kinds of foods did our ancestors eat?
Long ago, our kūpuna (ancestors) farmed plants and animals. They grew many different foods. They fished and gathered limu (seaweed) from the ocean. They ate very little chicken and pork—these foods were reserved for the chiefs. Our kūpuna ate green, leafy vegetables every day.
Kalo (taro) was the most important food plant. The corm is usually mashed and made into a paste called poi. Kalo is the eldest member of our 'ohana (family). We have great respect for it and take good care of it.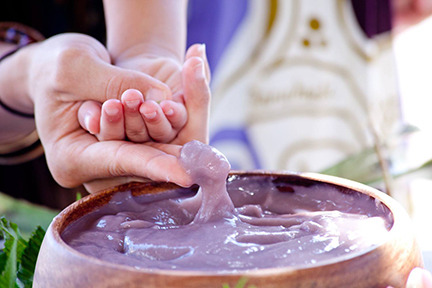 'Ohana today still grow and eat kalo. We also enjoy 'uala (sweet potatoes), 'ulu (breadfruit), and uhi (yam). We also eat green vegetables like limu (seaweed), lū'au (young taro leaves), and palula (young sweet potato leaves).
We grow other vegetables too. These are not traditional foods. But they are just as healthy. Some examples are lettuce, bok choy, kale, and chard. These veggies have a lot of vitamins!
Why do we grow healthy foods for our ʻohana?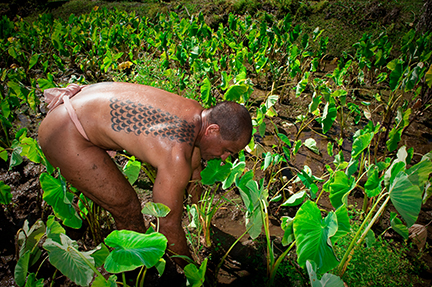 'Ohana and communities are growing healthy foods. We practice healthy farming. Some of these farming practices are ancient. One kind of farming is called organic. Organic farmers do not use chemicals. Safe methods are used so that the land and the people who work on the land are not harmed.
One method helps to provide water for plants. The farmer puts coconut husks around the plant. The husks collect water when it rains. The fibers of the coconut husk act like a sponge, so the husk traps water in the fibers. The water is released slowly over time.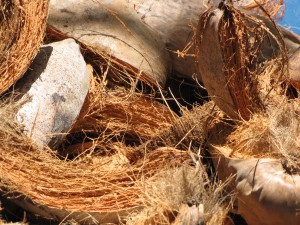 This method does not cost money. The farmer does not have to install costly water systems. It's an ancient method, and it's smart. The farmer uses materials grown on the land.
Another method helps to feed the plants. The special name for plant food is called fertilizer. An organic fertilizer we use in Hawai'i contains limu and fishmeal. Limu and fishmeal are mixed into the soil. This makes the soil nutrient rich. A nutrient-rich soil makes plants grow strong and healthy.
By growing our own food, we're putting our mana (spiritual power) back into the land and into the mouths of our 'ohana. This strengthens our bodies, minds, and spirits.
What are some customs practiced at mealtime?
We learn about food during mealtime. We watch our 'ohana eat. We watch what our 'ohana eats. We learn customs about food. We learn about portion control. How much should I eat? What amount of food will keep me healthy? We also learn about taking only what we can eat and not wasting.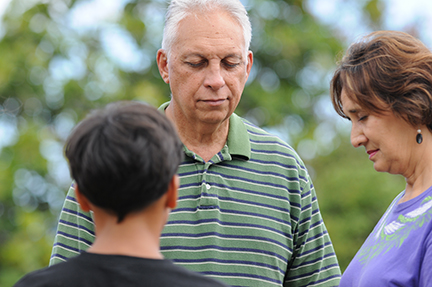 Pule (prayer) is another custom. Many 'ohana pray before we eat. Food is a gift from the akua (god or gods), and so we give thanks. Here is a pule said before mealtime at Pūnana Leo Hawaiian immersion preschools and in other settings:
I Ola Nō Ke Kino by Pila Wilson and Larry Kimura
| | |
| --- | --- |
| I ola nō ke kino | The body is healthy |
| I ka mā'ona o ka 'ōpū | Because the stomach is full |
| I mā'ona nō ka 'ōpū | The stomach is full |
| I ke aloha o nā kūpuna (mākua) | Because of the love of our ancestors (parents) |
| E pū pa'akai kākou me ka mahalo | Let us share our food together in thanks |
| Ua loa'a ho'i iā kākou ka 'ai | We have nourishment |
| A me ke aloha | And love |
| Mahalo | Mahalo |
There are many Hawaiian akua, and they have multiple body forms. Some of their forms are the foods we eat. Eating these particular foods brings us closer to these akua. By eating these and other healthy foods, we are receiving nourishment to thrive. The chart below shows foods that are a kino (body form) of a Hawaiian akua.
| | |
| --- | --- |
| Mea'ai (food) | Akua (god) |
| kalo | Kāne |
| kō (sugarcane) | Kāne |
| pua'a (pig) | Lono |
| 'uala (sweet potato) | Lono |
| 'ulu (breadfruit) | Kū |
| moa (chicken) | Kū |
| niu (coconut) | Kū |
| mai'a (banana) | Kanaloa |
| he'e (squid) | Kanaloa |
.
What can we do to eat healthier?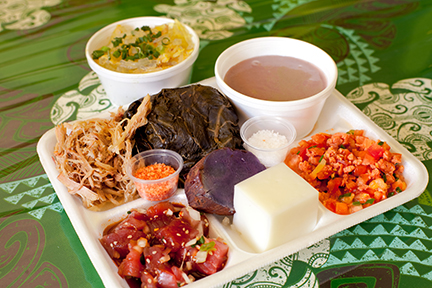 Baby lū'au and graduation parties are a time to celebrate. Many of these parties serve traditional foods our kūpuna ate.
We can learn from our kūpuna. The foods they ate gave them energy to work the land and fish the ocean. We can practice these same customs. 'Ai pono. Let's eat right. Let's stay healthy—for our bodies, our minds, and our 'ohana.
Try these simple, healthy recipes with your 'ohana! They come from Kamehameha Schools' "E Ola Pono: A Native Hawaiian Health Curriculum for Middle School Students." There are no set measurements, so you may mix and choose ingredients as you desire.
Limu Salad
Recipe by Herbert Hoe and Ka'iulani Odom.
- 1 bunch hō'i'o (warabi or fern shoot)—optional
- Limu, cleaned and chopped
- Tomatoes, diced
- Onions, diced (Maui preferred)
- Cucumbers, chopped or sliced
- Dried 'ōpae (shrimp)
- Shoyu, vinegar, water, and patis (fish sauce)
Set a pot of water to boil.
Mix together shoyu, water, vinegar, and a dash of patis until you have a sauce you like. Put in dried 'ōpae to soak.
Rinse and clean the hō'i'o. Break off the hard ends and discard. Blanche the stalks in boiling water. Take out of pot and rinse with cool water. Cut into bite-sized pieces.
Mix together hō'i'o, limu, and other vegetables.
Pour the 'ōpae with all the sauce over the vegetables. Toss again.
Sweet Potato Surprise
Recipe by Herbert Hoe and Ka'iulani Odom.
- 'Uala (sweet potato)
- Coconut oil
- Cinnamon
Steam or broil sweet potato for 10 to 15 minutes. Do not overcook. You should be able to pierce with a fork.
Turn oven either to 400 degrees or broil.
Brush a cookie sheet with a little coconut oil.
Slice sweet potatoes in 1/4-inch rounds and lay on cookie sheet.
Brush sweet potato rounds with a little coconut oil.
Sprinkle sweet potato rounds liberally with plain cinnamon.
Bake or broil till toasted on top.
Poi Smoothie
The following recipe by Ka'iulani Odom and Herbert Hoe requires a blender.
- Poi
- Low-fat, skim, or soy milk (try vanilla or chocolate)
- Peanut butter (organic, non-hydrogenated is best)
- Bananas
- Frozen berries (strawberries or other mixed berries)
- Cut fruit (e.g., melons, apples, pears, mangoes) except citrus fruits
- Crushed or small cubes of ice
Put ingredients into a blender and blend. Pour into cups and serve.