Mele

I leʻa ka hula i ka hoʻopaʻa.

The hula is pleasing because of the drummer.

Although the attention is given to the dancer, the drummer and chanter play an important role in the dance.

— ʻŌlelo Noʻeau #1225
Let's talk story about … mele!
So you wanna surf, but the kai is flat? There's a mele for that. Want to make sure your plants grow? There's a mele for that too. Want it to stop raining? There's even a mele for that. Mele are songs, chants, or poetry, and kānaka Hawai'i are famous for writing all sorts of them.
What are mele for?
Some mele arouse excitement, some give praise, and some criticize. Mele are a way to express our feelings—happiness, sadness, anger, love, and everything in between. Mele have a purpose. There are mele to awaken a loved one, to put a baby to sleep, to honor a leader, to challenge an opponent, or to commemorate an important event. There are mele for all occasions in daily life, from combing the hair to sitting down for a meal. Mele are like containers that hold all kinds of 'ike: knowledge of genealogy, of 'āina, of the gods, and so much more.
Mele give voice to the things that are important to us. When we visit someone's home, a mele could be our ho'okupu, or gift, to the hosts. Our voice and the proper mele are needed for entrance into a new place or into a hālau hula, or hula school.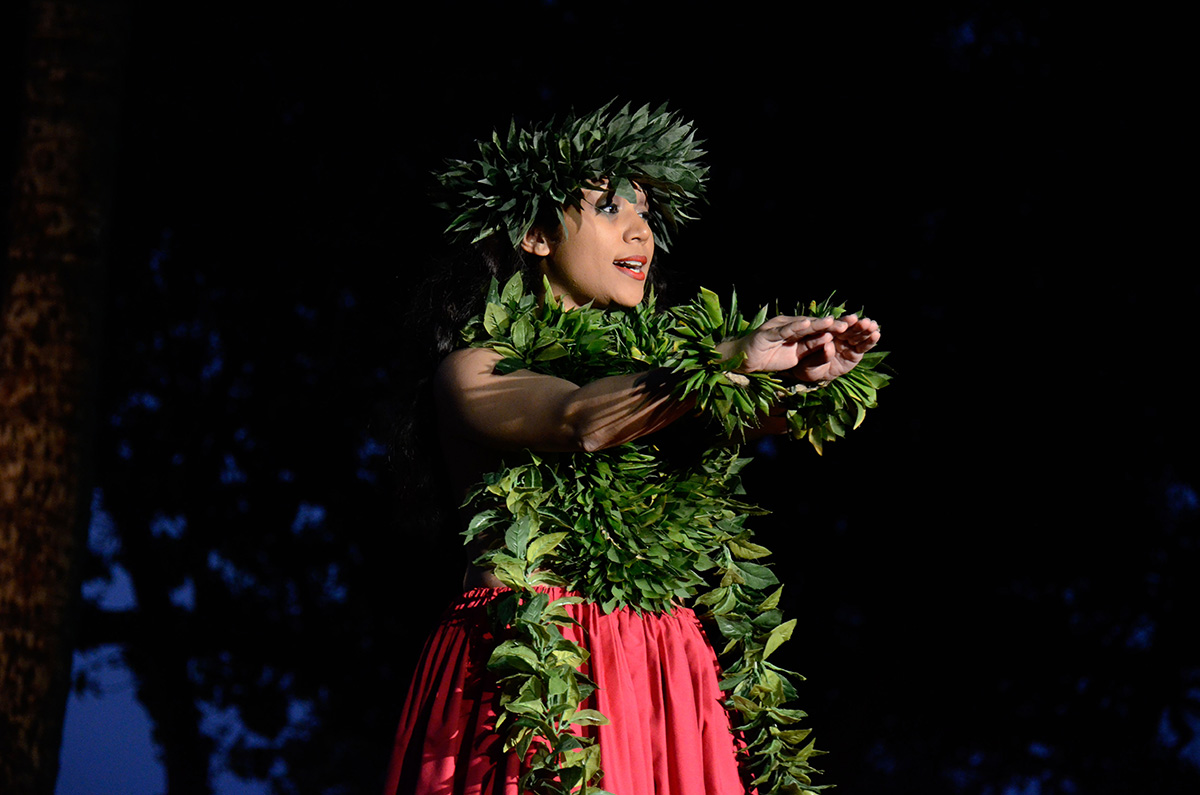 Mele are very important in hula. The 'ōlelo no'eau above says, "I le'a ka hula i ka ho'opa'a." The ho'opa'a is there to play the ipu and to chant the mele, so that the dancer can dance. Hard to dance hula without a mele!
Mele are also an important part of Hawaiian life. Mele are chanted to our gods, to our kūpuna, to other people, and to our 'āina. Mele are a way to communicate with them and with everything in the world around us.
What kind of mele are there?
Music of the world is categorized as being Hawaiian, reggae, Jawaiian, hip-hop, R&B, country, and so forth. Mele are grouped by the purpose and mana'o, or meaning, of the mele. Here are a few of the many types of mele.
| | |
| --- | --- |
| mele ko'ihonua | genealogy for an ali'i showing their rank and kūpuna |
| mele inoa | mele for the name of an ali'i or a favorite person |
| mele ma'i | mele to encourage and celebrate the growth of future generations of an ali'i or a favorite person; procreation chant |
| mele hula | mele for hula |
| mele 'āina | mele celebrating the famous and most beloved aspects of a specific 'āina |
| mele mahalo | mele showing thankfulness |
| mele aloha | mele showing aloha for someone or something |
| mele pule | mele for worship; if the chanting is unbroken and the pule done correctly, the result will be good |
| mele kanikau | mele for someone who has passed away; many of these are seen in the old Hawaiian newspapers |
| mele nemanema | mele for criticizing |
How do you make a mele?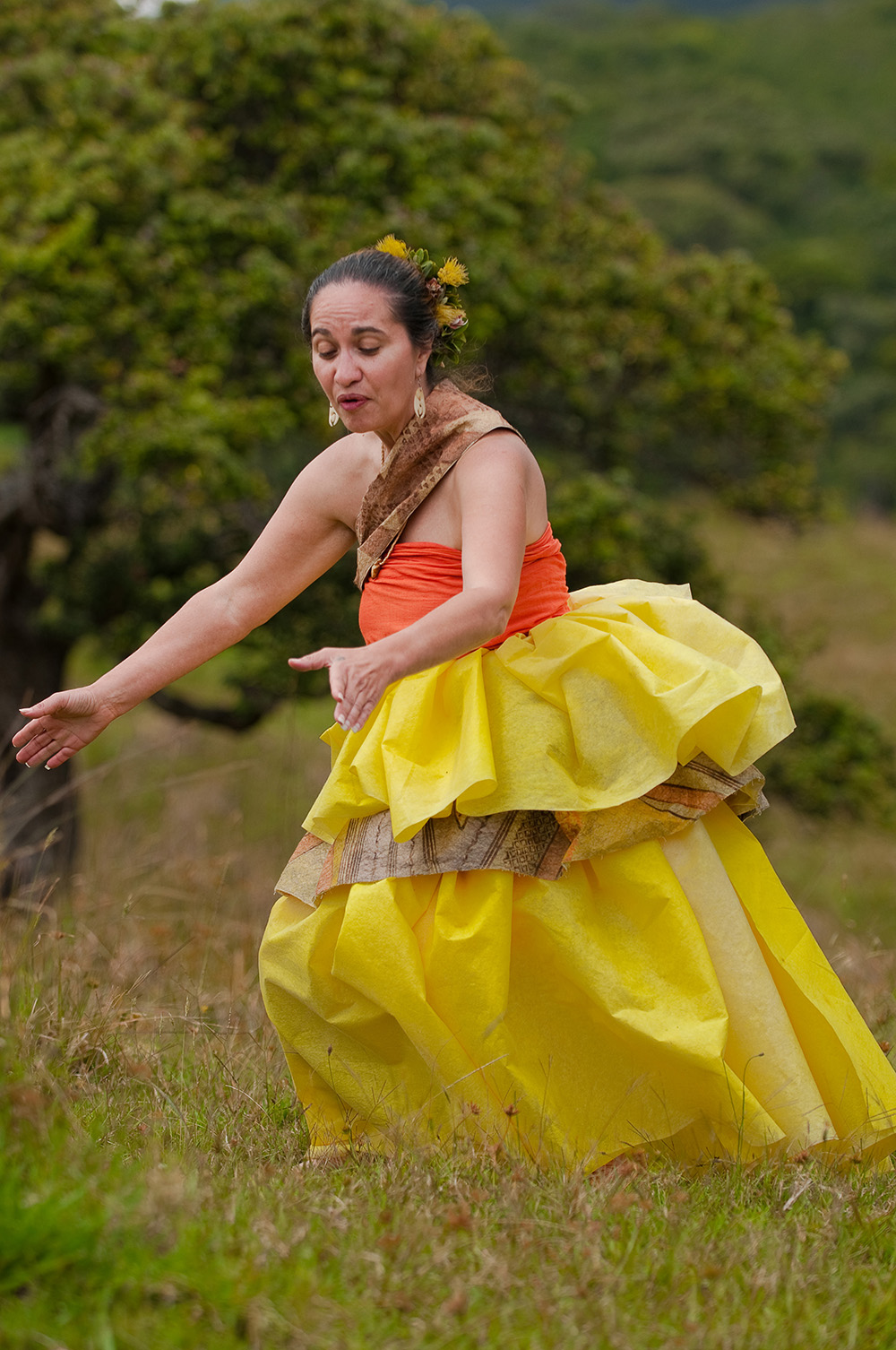 A lot of work goes into composing a mele because words have so much power. Words are chosen carefully to avoid any unintended mana'o that might insult people or have other unintentional consequences. The mele is checked by a knowledgeable person, sometimes by several people. But often the composer is the only one who knows the deeper meaning, or kaona, of a mele.
Lines of songs are joined or separated into verses. We often call a verse a "paukū," which is also a term we use for "paragraph." An older term for verse is "'oki," but, unlike most paukū today, 'oki could consist of lines of irregular length and beat, and no two 'oki in one song had to be the same length. 'Oki separated different thoughts in a mele. Once a thought covered in several lines was complete, that 'oki would end and a new one would begin. "'Oki" means to cut, which helps us visualize the breakup of mele into 'oki.
Certain features are often seen in mele Hawai'i. For instance, the ending of one line may sound similar or have a related meaning to the start of the next line. You can see this in the second and third lines of the mele hula below, and in the subsequent bolded words. This mele was written by Wahineikeouli Pa and is called "Ka poli laua'e ka'u aloha" (Bacon me Nāpōkā 1995, 162):
Ka poli laua'e ka'u aloha
A Makana ho'i e hi'i mai nei
Hi'ipoi 'ia e ka Waiama'u
Ka makani kaulana o ka 'āina
Ua like a like me Kanaloa
Me ka wai aniani o Kapala'e
Ma'ema'e ia pua o ka hinahina
Ia lei makahehi a ka malihini
'I'ini ka mana'o e 'ike aku
I ka poli kapu o Lohi'au ipo
Ku'u ipo i ke kai o Kē'ē
Kai hāwanawana hone i ka poli
Poli o Kilioe, ka'u 'ano'i ai
Ho'opulu 'ia nei e kēhu kai
'Akahi ho'i au a 'ike maka
Nā kupa kaulana o ka 'āina
Ha'ina 'ia mai ana ka puana
'O ka lihilihi o ka poli laua'e
Sound repetition helps the mele to flow as it is being composed. Kānaka Hawai'i enjoy the word play that this kind of repetition inspires. And after the mele is complete, sound or meaning repetition helps the learner to memorize the mele. This and other characteristics that are frequently seen in mele Hawai'i are called loina or, more recently, meiwi.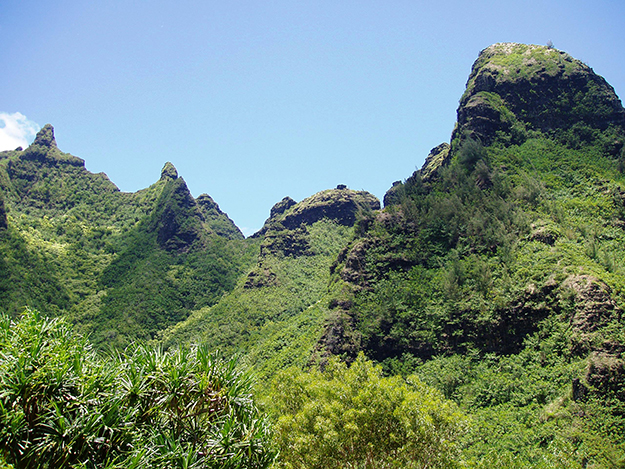 Today, just as in early Hawai'i, we have famous composers. Some of these composers are also highly skilled in chanting, singing, dancing, and playing music. Some of them were involved in bringing about the language revitalization movement and the Hawaiian renaissance, while others are younger and are the products of those movements. They write mele on a variety of topics, from UFOs to surfing to the beauty of the dawn. Sometimes the topics are different, but the mele all come from their observations and connections to the world, just like those of our kūpuna.
What do mele sound like?
Mele can be expressed in more than one way. In the early days, no one sang. Oli, or chanting, was the way to give mele life, and many different styles of chanting developed. Today, we still chant. But we also sing and play instruments, including early Hawaiian implements, like the ipu (gourd), pahu (drum), and 'ohe hano ihu (nose flute). Hawaiians like to preserve our traditions, but sometimes new and old styles of instrumentation can be brought together to make our mele even more interesting. In fact, that is how instruments such as guitar, 'ukulele, piano, and even the zither came to be used to play Hawaiian mele.
Mele today
Mele Hawai'i continue to thrive! Kānaka are learning traditional mele and the knowledge contained in the old songs. We are also composing new mele for contemporary contexts that evoke the feelings, characteristics, and values of our kūpuna. We continue to show our aloha for each other and for the world around us through our mele. Aloha ē!
| | |
| --- | --- |
| He mele kāhea nalu | Mele for calling up surf |
| Kū mai! Kū mai! Ka nalu nui mai Kahiki mai | Arise, arise ye great surfs from Kahiki |
| Alo po'ipū! Kū mai ka pōhuehue | Powerful curling waves! Arise with the pōhuehue |
| Hū! Kai ko'o loa | Well up, long raging surf |
(Fornander—Fornander 6:1999, 207)
| | |
| --- | --- |
| He mele ho'omālie ua | Mele for slowing the rain |
| Mālie, mālie ka ua i Pōhākea | Be calmed, be calmed, O rain at Pōhākea |
| Pohā, pohā i ka lae o kō mo'opuna | Bursting, bursting on the forehead of your Grandchild |
(Pukui 1999, waihona leo 12)
ʻŌlelo noʻeau related to mele
He keiki mea kupuna. ('Ōlelo No'eau #688)
[It shows] that the child has a grandparent.
Said in admiration of a child whose grandparents show affection by making beautiful things for his use or composing songs and chants in his honor. A similar expression is He keiki mea makua: [It shows] that the child has a parent.

'A'ohe i mane'o iho ke kumu pepeiao i kāu hīmeni. ('Ōlelo No'eau #150)
Even the base of the ear isn't tickled by your song.
A rude remark to one whose song or story is not appealing.